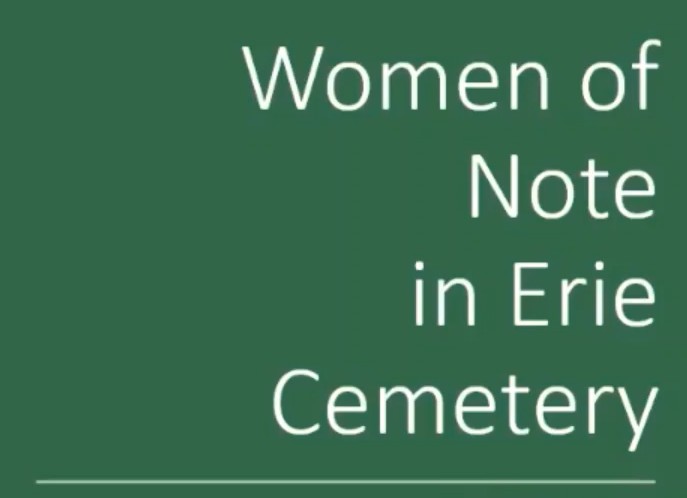 Betsy MacKrell
November 2021
We continue to meet at the Erie Yacht Club. We will be in the lower level dining area for the next few meetings. Meetings begin at 6:00 pm with a social hour and dinner, followed by our program/speaker.

Our Dinner Menu:
We will have a choice of two entrées: Crab Stuffed Sole or Marinated London Broil w/Bearnaise Sauce, with Wild Rice Pilaf, Green Beans Almondine, Mixed Greens Salad, Rolls and Butter, Coffee or Tea, and Chocolate Tuxedo Cake.

Our Guest Speaker:
Betsy MacKrell
Betsy is the Database Manager for the Erie Cemetery Association.

Topic:
Women of Note in Erie Cemetery

For reservations; please E-Mail the Torch Club Secretary at secretary.erietorch@gmail.com.
"Women of Note in Erie Cemetery"
Join Betsy for a virtual tour of the graves of strong women who forged paths in the wilderness of the Pennsylvania frontier, then in a growing community where roles for women in general and especially women of color were limited. Each of these women overcame the perception that a woman's place was (and even should be) limited to unseen and largely unappreciated labor.




Please join us on November 3rd, 2021 at 6:00 pm, for our pre-dinner cocktail and chat time and remember to bring your friends and acquaintances. Reservations are required.


Please remember to make your reservation at secretary.erietorch@gmail.com.